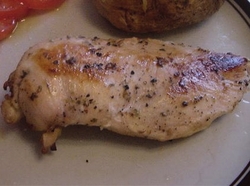 This is a great choice for dinner parties because it can be prepared in advance. It's important to use fresh basil in this easy yet tasty dish that goes well with all vegetables. Make your own fresh breadcrumbs in a food processor because store-bought ones are too fine and dry for this recipe.


10 boneless skinless chicken breast (about 2 1/2lb/1.25kg)
3/4 cup low-fat yogurt
1/2 chopped fresh basil
2 tsp. cornstarch
1 cup fresh whole wheat bread crumbs*
2 Tbs. freshly grated Parmesan cheese (optional)
Arrange chicken in single layer in baking dish. Combine yogurt, basil and cornstarch; mix well and spread over chicken.
Season bread crumbs with salt and pepper to taste; add Parmesan (if using) and sprinkle over chicken. (If making in advance, cover and refrigerate for up to 6 hours.)
Bake chicken in 375 degrees oven for 30 minutes or until chicken is no longer pink inside. Makes 10 servings.
* About 2 slices of bread. If only fine dried crumbs are available, use about 3 Tbs. (45 mL).